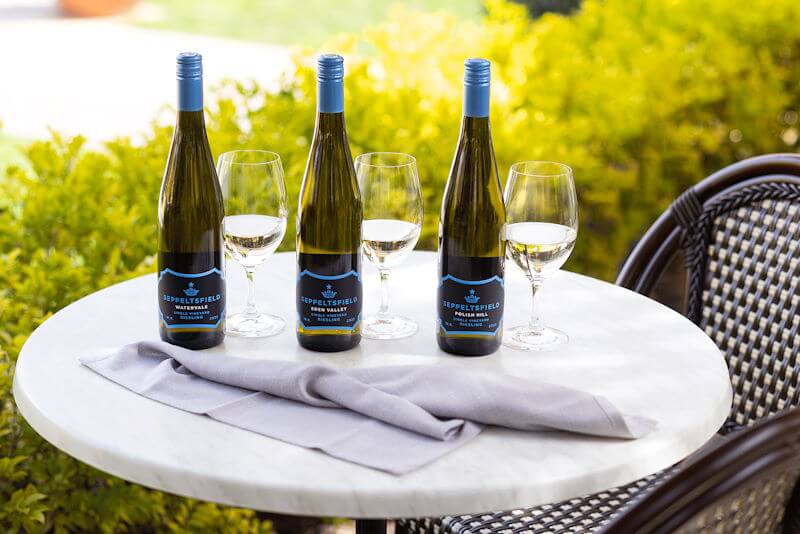 Seppeltsfield is one of Australia's most historic wineries, established in the Barossa in 1851.
Seppeltsfield has long been internationally renowned for its treasure trove of fortified wines, highlighted by the Centennial Collection – the world's only unbroken lineage of single
vintage Tawny dating back to 1878. But the star is starting to well and truly shine on the 172-year-old Estate's new chapter – the luxury collection of still wines, only possible since
recently gaining full ownership of its trademark in 2017.
Today, Seppeltsfield unveil a Riesling collection from the stellar 2023 vintage, the season was four weeks later than the 'new normal' of the past twenty years, similar to, but even later than 2002. La Nina conditions meant the Barossa's rainfall was one of the wettest on record, resulting in a growing season that saw average soil moisture and strong budburst. The rain meant we saw run-off into most Eden Valley dams, for the first time in many years.
During the harvest period, the winemaking team identified three stellar, Single Vineyard blocks of Riesling – Eden Valley in the Barossa, along with Watervale and Polish Hill in the Clare region. Given the diversity of the grape variety, this was an opportunity to showcase a collection of Riesling that is a true representative of both region and style.
Hence the decision was to produce Riesling from Australia's top producing regions, the 3 sites included – Watervale, Eden Valley and Polish Hill.
The wines are of style and elegance, with hallmark intense aromatics, finesse and great natural acidity. 2023 was an exceptional vintage for Riesling, the best we have seen in twenty years.
Fiona Donald, Chief Winemaker, said:
"We are fortunate to have such vast vineyard holdings across South Australia is the most prominent regions for Riesling".
"2023 was an exceptional vintage for Riesling and our collection of three wines, showcase distinctive expressions that are suitable to enjoy now, but with future potential for your cellar".
This collection is available exclusively at the Seppeltsfield Cellar Door in the Barossa or via Seppeltsfield.com.au