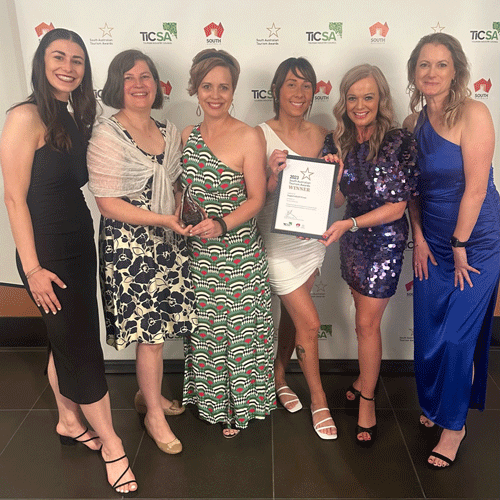 Seppeltsfield Wines has been crowned with the 2023 Best Tourism Winery in South Australia, at the state's tourism awards night of nights. 
The 2023 South Australian Tourism Awards, presented by Tourism Industry Council of South Australia (TiCSA) and the South Australian Tourism Commission (SATC) were held last night at the Adelaide Convention Centre, and brings together the state's leading operators across the tourism industry to recognise excellence. 
Contributing to the win was the recent addition of accommodation at 'The Lodge', the best way to truly immerse yourself in all that Seppeltsfield has to offer. The Lodge at Seppeltsfield was built in 1903 by Udo Seppelt, grandson of Seppeltsfield founder Joseph Seppelt, as his family home. 
The Lodge provides a quiet and secluded getaway location, just a short 5 minute walk to the iconic Seppeltsfield Estate, offering an award-winning mix of wine, food, art, craft and adventure. Enjoy bucket list experiences such as tasting our 100 Year Old Tawny on our 'Taste of History Tour', or a Segway tour through the estate and our iconic Great Terraced Vineyard, followed by a long lunch at destination restaurant FINO Seppeltsfield. The Lodge provides comfortable accommodation for up to 12 guests in 6 separate bedrooms.
Managing Director, Steven Trigg, Seppeltsfield Wines said "We are thrilled for this fantastic recognition – a testament to our incredible team who are dedicated to creating exceptional experiences for our guests".
Seppeltsfield Wines will go on to represent South Australia at the Australian Tourism Awards in Darwin, Friday 15th March 2024.
The full list of category award winners can be seen here.