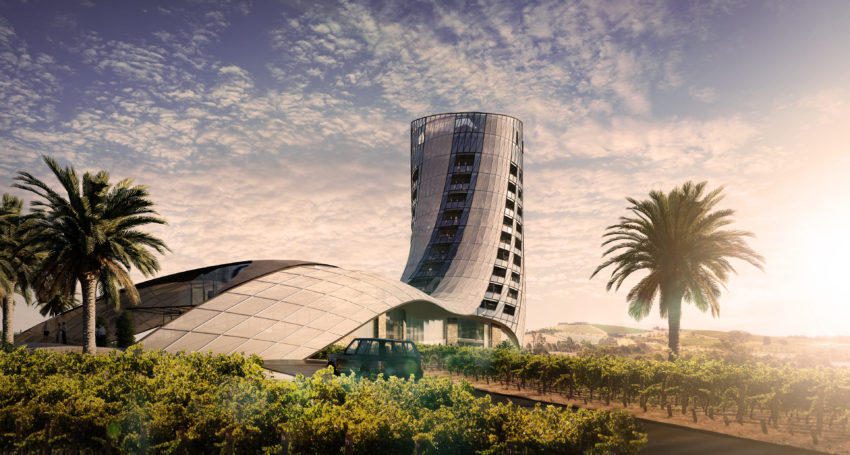 The Oscar, a new $50 million six-star luxury hotel at Seppeltsfield which is set to become an iconic landmark for the Barossa and tourism in Australia has been given planning approval.
The Light Regional Council approved the project at a council meeting with construction works expected to commence later in 2022.
Project Director Toby Yap says, "We are thrilled to finally have approval and to move into the next phases after investing almost $2 million into the project to date."
The project is being funded and driven by a dynamic group of South Australian business leaders who are still 100% committed to move forward with the Barossa's first proposed six-star luxury accommodation.
Oscar Seppeltsfield will be located in the Barossa region of South Australia and is expected to bring an additional $90M in tourism expenditure and attract new markets to the region and drive growth in domestic and international visitor economy within the first five years. The project will create an additional 363 construction jobs and 350 ongoing jobs for the region once operational
The luxury 12-story hotel will have 71 rooms, including suites and penthouses, with a private balcony for every room.
There will be a viewing deck on the top level with 360-degree sweeping views of the Barossa. The ground floor will have a wellness day spa including world-class treatment experiences, relaxation spaces and an infinity pool. The hotel will also offer a world-class restaurant, private dining room and boardroom.
Yap continued, "A tender process has been undertaken to choose a luxury hotel operator and we look forward to announcing this exciting partnership soon."
Seppeltsfield proprietor and Executive Chairman Warren Randall said, "The Oscar Seppeltsfield will complete the grand vision of our tourism master plan – to be the most desirable epicurean destination for tourists worldwide. A national icon for South Australia, a Sydney Opera House for the Barossa.
"Positioned gently in the middle of our Great Terraced Vineyard, the Oscar Seppeltsfield will be surrounded by century old bush vines, an amazing tranquil location and a short walking distance to the Seppeltsfield precinct – home to our world-class Cellar Door, Centennial Cellar, 1888 Gravity Cellar, FINO restaurant, Jam Factory Craft and Design Studios, Artisan Knife Making, Vasse Virgin, Master Cooper, Segway Vineyard Tours, Fine Art Photography Gallery and Artisan Caterer.
"After wide and extended community consultation and support for the first 6 Star luxury resort and spa in an Australian wine district, the Barossa is the winner," Randall concluded.
"It is anticipated that the construction of this iconic building will drive visitation in the broader region and act as a catalyst future new development activity," Yap concluded.