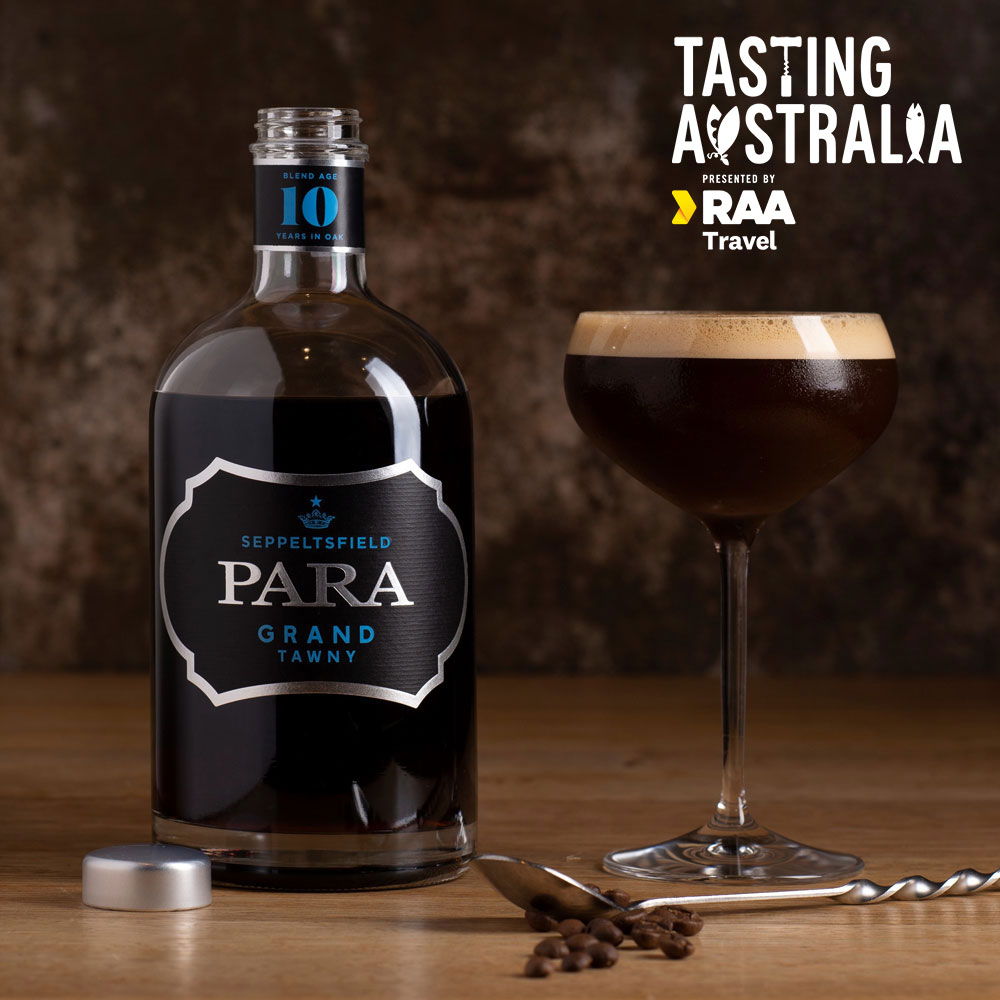 We are proudly continuing our partnership with Australia's premier eating and drinking festival, Tasting Australia into 2022, taking place in South Australia Friday 29th April – Sunday 8th May, presented by RAA Travel.
To celebrate, we invite you to indulge in our classic cocktail with a twist – the traditional Espresso Martini will be mixed with our house style fortified wine, Seppeltsfield Para Grand Tawny and freshly roasted espresso from our friends at Veneziano Coffee Roasters. 
Fittingly remixed as an 'Espresso Martawny', this bootleg cocktail takes the bittersweet flavours to a new level of complexity. Our 'Espresso Martawny' will be available at the Tasting Australia Town Square Cocktail Bar, for the duration of the festival.
Hosting Two Very Special Masterclasses
Dark and Delicious in collaboration with Haigh's Chocolates
Rich. Lavish. All-consuming – and very indulgent. Seppeltsfield's Centennial Collection of fortified wines are the rarest in the world and date back to 1878. Discover all the secrets behind this treasure trove of fortified wines while tasting some rare and special bottlings. Each is sensational on its own, but a revelation when paired with the perfect Haigh's chocolate in this tasting.
Seppeltsfield chief winemaker Fiona Donald will take you through the stories behind these ancient drops and pairings.
Limited tickets remaining, purchase yours here > Dark & Delicious | Masterclass, Event | Tasting Australia
The Grenache Clash
Wildly delicious wine tasting The Grenache Clash returns to our masterclass line-up. Prepare for more minced words and vinous blows as the Barossa and McLaren Vale clash where it counts. You'll decide which region triumphantly takes top billing as the source of South Australia's best Grenache.
In the Barossa's corner is a duo to be reckoned with, our very own, Chief Winemaker, Fiona Donald teams up with Sam Wigan from Yalumba to showcase the region's best.
Representing the vale: the one and only Chester Osborn – legend of d'Arenberg – plus Samuels Gorge winemaker Riley Harrison, who honed his craft internationally and returned to work in the Barossa before pursuing his passion for Grenache in McLaren Vale.
Limited tickets remaining, purchase yours here > The Grenache Clash | 2022, Event | Tasting Australia
We look forward to seeing you there!
To explore the program further, go here > Tasting Australia presented by RAA Travel | 29 April – 8 May 2022