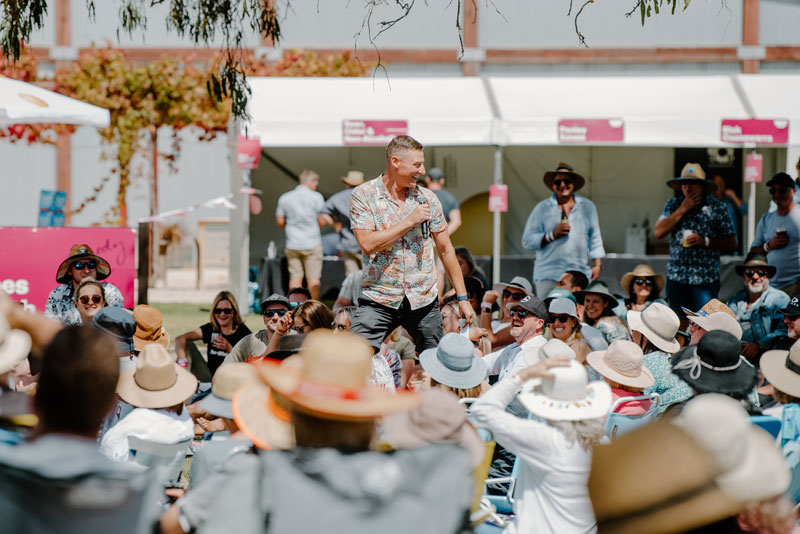 Barossa Valley South Australia, will host the biggest names in comedy, the funniest podcasters, and Australia's finest food and wine experts as part of the biggest ever two-day festival from the popular national comedy and wine event creators, Grapes of Mirth (GOM) this October.
Grapes of Mirth – The Festival, to be staged at the stunning Seppeltsfield Winery in the heart of the Barossa Valley is the vision of GOM Director and Head Clown, Merrick Watts to curate the perfect line up of comedy, music, food podcasts, masterclasses, and a wine list that is world-class.
"This festival is GOM at a whole new level. The biggest line-up we've seen will converge for this two-day offering as we convert Seppeltsfield into a comedy village. The wine offering will give ticket holders the perfect representation of what the Barossa has to offer, with several local producers on show. As a Barossa Master, having recently passed my exams, I'll be personally curating the wine list. Take a weekend in spring to shake off the year and prepare for summer! See you there amigos", said Merrick Watts.
The festival's comedy line-up is the biggest in its history with sets from Judith Lucy Tom Gleeson Peter Helliar Tommy Little Nazeem Hussain Zoe Zoë Coombs Marr and the 2021 Melbourne Comedy Festival, Best Show winner Geraldine Hickey. Geraldine's fellow Best Show nominees will also be coming to South Australia, with Michelle Brasier joining Rhys Nicholson and more in the Late-Night Cellar Bar.
The Barossa line-up will also bring Australia's favourite comedy podcasts to the stage with its program featuring live recordings from Myf Warhurst and Zan Rowe with their smash hit Double J podcast Bang On, Peter Helliar with his podcast You Ain't Seen Nothing Yet, and Kyran Wheatley's hilarious Wax Quizzical. Luke Heggie will also present his podcast Mid-Flight Brawl with co-host Nick Cody before they both take to the main stage.
The food line-up will feature Melissa Leong (MasterChef) and Colin Lane (Lano and Woodley) who will be hosting a comedian's cook off on the main stage. Ivan Aristeguieta will present the live debut of his lockdown cooking sensation About This Much. Merrick Watts will also host the ultimate BBQ masterclass as part of the festivities. Festival goers will enjoy tunes from Big Bad Barry and DJ Pedro Moshman.
Grapes of Mirth – The Festival will deliver a weekend of non-stop entertainment, wines from Seppeltsfield and Friends, gourmet food stalls and roving performers on Saturday 23 and Sunday 24 October 2021. 
For further event information and bookings please visit www.grapesofmirth.com.au
———-
When
Saturday 23 October 2021
Sunday 24th October 2021
Tickets
Reward Price (to be offered to the top 200 Audience Republic fans)
Saturday only: $99.00
Sunday only: $99.00
Weekend: $159.00
Pre Sale Price
Saturday only: $109.00
Sunday only: $109.00
Weekend: $165.00
General Public Price
Saturday only: $119.00
Sunday only: $119.00
Weekend: $189.00