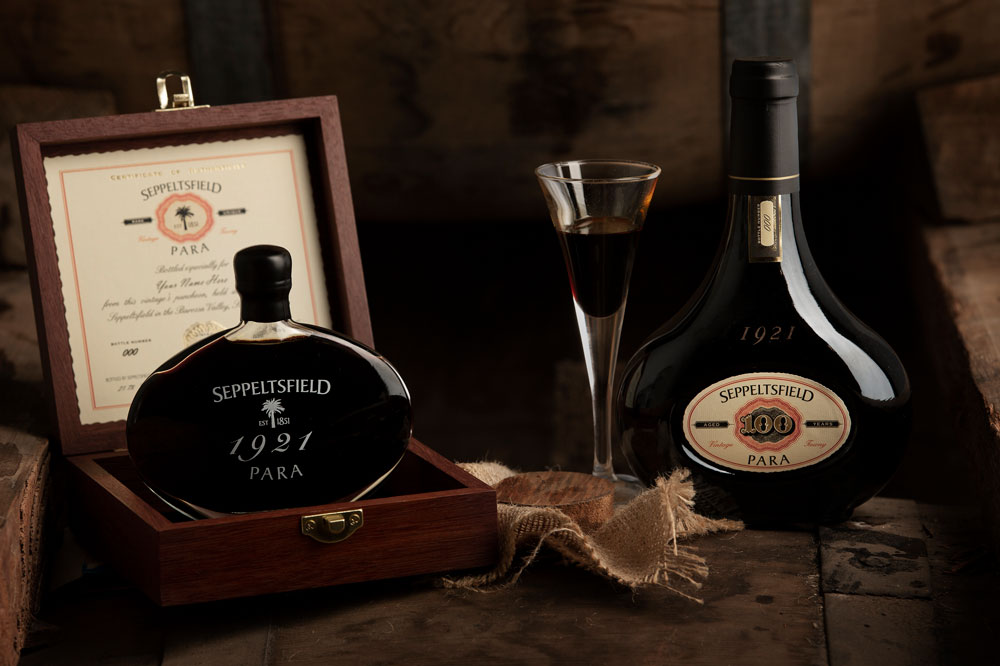 Seppeltsfield was established in 1851 by Joseph Seppelt and is one of the oldest wineries in Australia. 
Today, Seppeltsfield celebrate the unveiling of one of Australia's most significant fortified wines, with the 1921 100 Year Old Para Vintage Tawny, also coinciding with an important anniversary of 170 years of the history of the Seppeltsfield estate. On this day, 20th February 1851, the Seppelt family moved into the family homestead.
This is the 44TH consecutive 100 Year Old Vintage Tawny to be released from the historic 1878 Centennial Cellar – seeing 100 Summers and Winters maturing in oak. This continues the lineage of releases first conceived by Oscar Benno Seppelt in 1878, now commonly known as the 'jewel in the crown' at Seppeltsfield.
Andrew Caillard Master of Wine describes the 1921 100 Year Old Para Vintage Tawny:
"Marmalade, treacle, molasses, liquorice, mahogany, Indian spices, tobacco, dark chocolate, country gardens, dried raisins, dates and grilled nuts and everything in between give a sense of its complexity and proportions.   It is an endless sensory kaleidoscope that changes with air.  When you taste this 1921 Para you only need a thimble to understand its power, concentration and layered complexity".
"Seppeltsfield 100 Year Old Para Vintage Tawny is rated as 'Exceptional' in the Langton's Classification of Australian Wine, reflecting its First Growth status and historic narrative. It belongs to a contiguous collection of fortified wine vintages that goes back to 1878 and is one of the most important fragments of Australia's 19th century colonial history" said Mr Caillard.
Listen to the full Tasting Podcast below.
The release will be celebrated by the Barossa Valley Wine Region, in a special presentation at the 2021 Declaration of Vintage Celebrations, Sunday 21st February 2021.
To accompany this year's release, Seppeltsfield have once again, partnered with Master of Wine, Andrew Caillard and Producer of The Grape Underground, Christophe Priddle on a tasting note podcast, revealing what it is like to taste this 1921 100 Year Old fortified wine, a private and unique experience Seppeltsfield offers to guests in the iconic Centennial Cellar.
Alongside the 1921 100 Year Old Para Vintage Tawny release, Seppeltsfield also celebrate the official release of the 1981 40-Year-Old Para Vintage Tawny.
The 1921 100 Year Old Para Vintage Tawny and 1981 40-Year-Old Para Vintage Tawny have limited availability, in both the 375ml and 100ml formats.
The fortified wine bottles are hand filled to order, individually numbered and authenticated for collection purposes. They are presented in Jarrah timber gift boxes and the certificate can be personalised accordingly.
Explore our Seppeltsfield Centennial Collection here. Available for worldwide shipping or from our Cellar Door.