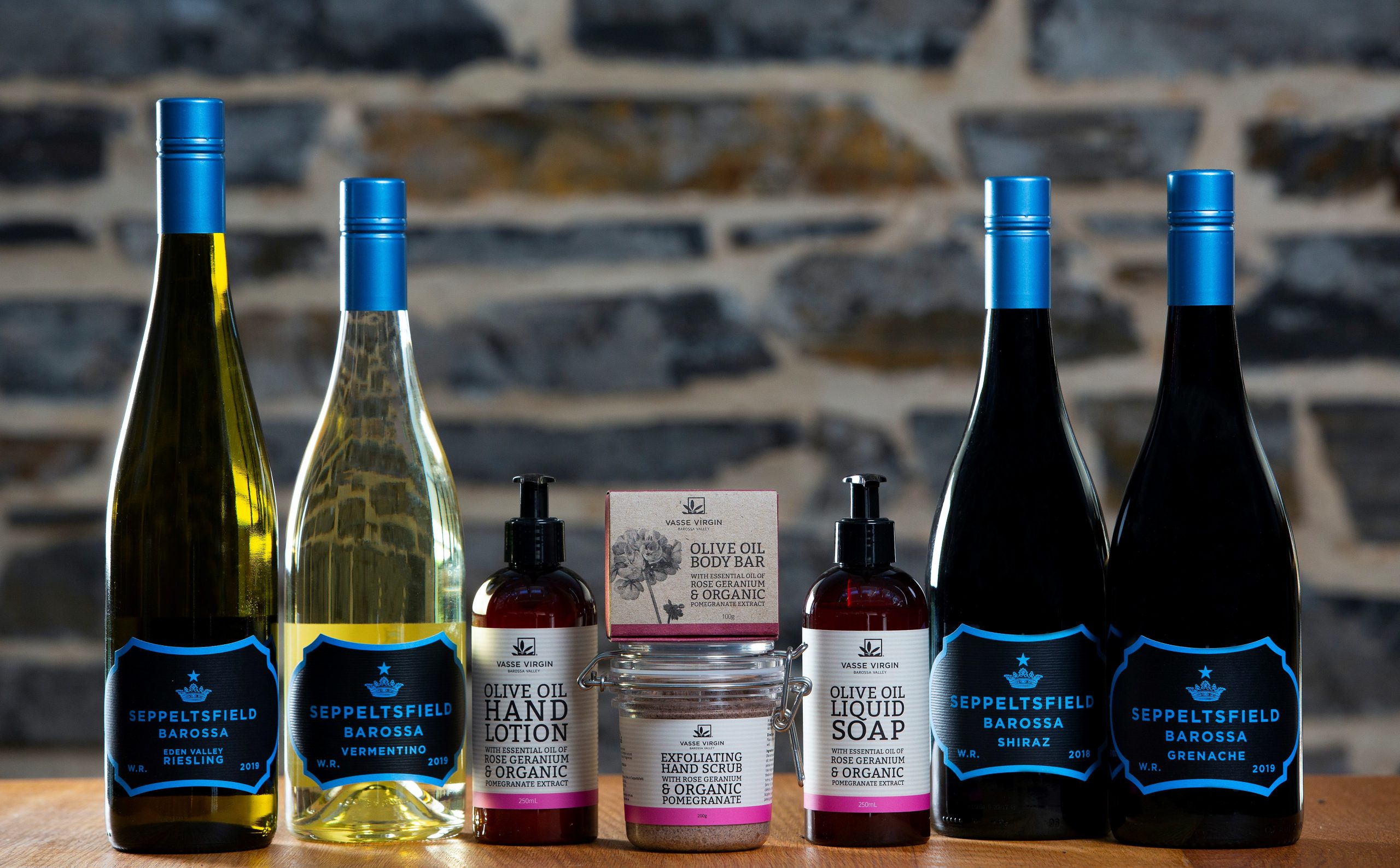 The dynamic and internationally renowned Seppeltsfield village is home to an award-winning cellar door, FINO Restaurant, JamFactory Contemporary Art and Design Studios, Segway Sensation SA and Vasse Virgin – natural olive oil skin care.
The vibrant Barossa community spirit is evident at every touch point – and has inspired Seppeltsfield Wines and newest addition to the village, Vasse Virgin, to collaborate and launch a very special Mother's Day pack, you can send to your Mum to make her really feel the love this Mother's Day!
Aptly named, 'Stay at home and celebrate Mother's Day with Seppeltsfield pack', consists of a beautiful, thoughtful selection of everyday luxuries that will be sure to impress her, with the gift boxing and delivery to her door, all done for you. This includes four bottles of their award-winning Seppeltsfield Wines – which can be selected from three variants – all whites, all reds or a mixed selection. Feature wines include Eden Valley Riesling, Barossa Vermentino, Barossa Grenache, Barossa Shiraz and Barossa Mataro. As well as a selection of four Vasse Virgin products from the Rose Geranium and Pomegranate range, designed to leave your skin feeling nourished, silky smooth and pampered including – Olive Oil Liquid Soap, Olive Oil Hand Lotion, Olive Oil Body Bar and Exfoliating Hand Scrub.
Managing Director, Steven Trigg, Seppeltsfield Wines said "Our village team ethos continues to go from strength to strength – this is the first time we have partnered with Vasse Virgin to create a gift box full of Barossan love, that can be safely sent to Mums across the country".
Chief Executive Officer, Ashley Keegan, Vasse Virgin at Seppeltsfield, adds, "We are excited to offer this unique care package – consisting of wine and skin care to show your love this Mother's Day. Our Rose Geranium and Pomegranate range has a beautiful feminine fragrance and skin firming properties – perfect for Mum".
The Vasse Virgin story began in the Margaret River region of Western Australia over 20 years when Louis and Edwina Scherini created an olive oil-based soap on their stove top to help their children with eczema. The natural olive oil-based soaps and skincare are hand-made, hand packaged and labelled on site using South Australian olive oil. The award-winning Vasse Virgin South Australian factory and store opened at Seppeltsfield in March 2018, housed in the newly-renovated Seppeltsfield Vinegar Factory.
Both Seppeltsfield Wines and Vasse Virgin at Seppeltsfield have been recently crowned at the 2019 South Australian Tourism Awards. With Seppeltsfield Wines taking out the most prestigious 'Premier's Award' and 'Best Winery, Distillery or Brewery', and Vasse Virgin at Seppeltsfield recognised with Silver, 'Specialised Tourism'.
The 'Stay at home and celebrate Mother's Day with Seppeltsfield pack' is available for $185*, delivered to your door, for a limited time only, purchase online via seppeltsfield.com.au
For more information* on 'Stay at home and Celebrate Mother's Day with Seppeltsfield pack', visit seppeltsfield.com.au
Follow @Seppeltsfield @VasseVirgin #stayathomewithseppeltsfield #vassevirginseppeltsfield #SeeSouthAustraliaFromHo