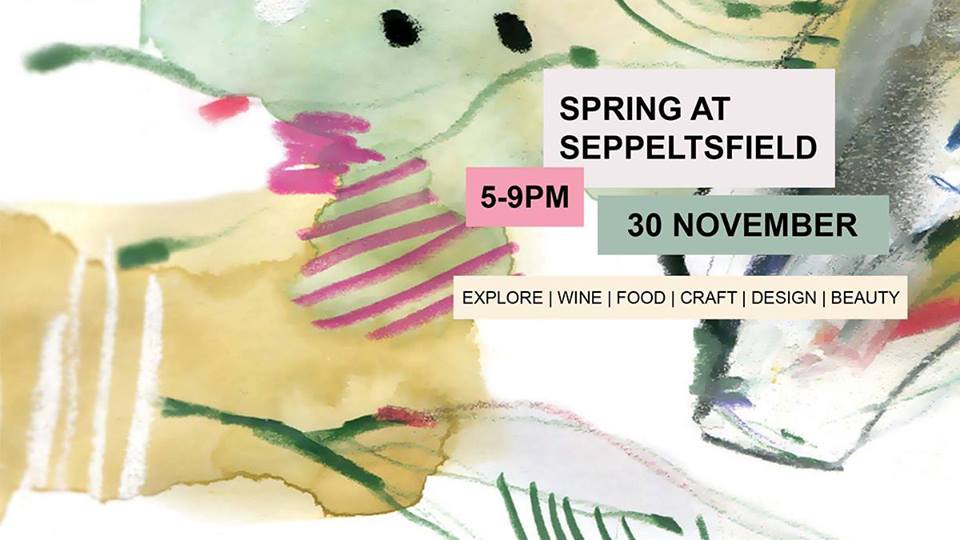 Seppeltsfield estate celebrates the last evening of spring with a family friendly event of wine, food, craft,Seppeltsfield estate celebrates the last evening of spring with a family friendly event of wine, food, craft,design and beauty on Friday 30 November from 5-9PM.
Enjoy an array of unique experiences from Seppeltsfield wine, FINO Seppeltsfield, JamFactory, Vasse Virgin, Owen Andrews Catering and Segway Sensation SA as the sun sets over Seppeltsfield's iconic palm trees.
Enjoy a glass of Seppeltsfield's award winning wines, soak up the spring vibes on the terrace with a cocktail or spritzer from Fino paired with tasty wholesome street food and relax in the lounge area as you enjoy local Barossa produce from Owen Andrew's catering.
Jump on a Segway for a taste of the tour experience, meet the makers in their studios and uncover the work of some of Australia's most talented Aboriginal artists at JamFactory and bliss out with are juvenating hand scrub and massage at Vasse Virgin.
Limited tickets available. Adult entry: $10 per person inclusive of souvenir outdoor glass (GoVino). Tickets available here.
Children 2 – 17: free.
No BYO Food or beverage.
Discover all the night's offerings below and keep up to date on Facebook.
FINO SEPPELTSFIELD
Enjoy the spring vibes with tasty wholesome street food Fino style. From the kitchen of Fino Seppeltsfield, home of progressive regional dining, join us to celebrate spring at seppeltsfield as we move outside to the terrace. Sip on funky cocktails and spritzers under the palm trees as the sun setsover Seppeltsfield.
JAMFACTORY AT SEPPELSTFIELD
Experience the best of craft and design at our Seppeltsfield studios, gallery and shop. Meet the makers and view our artisans in action with live demonstrations of ceramics, jewellery making, knife making, millinery and leather work. Explore JamFactory's exhibition of new paintings, ceramics and weavings from the artists of Ernabella. Plus, take advantage of our special Spring at Seppeltsfield offers with 10% off retail purchases for everyone and 15% off for Members.
OWEN ANDREWS CATERING
Join award winning caterer and chef Owen Andrews and his team as they serve signature dishes created for Events @ Seppeltsfield. Owen is passionate about local Barossa produce and has created a providore food range that will be available for tasting. Relax in our lounge area and soak in the ambience ofthe estate.
SEGWAY SENSATION SA
Join Segway Sensation SA for a taste of the Segway experience with free trials on the night by the experienced team. Find out more about the fantastic tour options that will have you gliding among the grapevines with back-stage access to some of the magical areas of the estate. Tour vouchers will be available for purchase with a special 20% discount offered on the night.
SEPPELTSFIELD
Join us as we continue to celebrate the national release of Seppeltsfield still wines – the first in 167 yearsand a homecoming for the estate. Crafted by winemaker Fiona Donald, our philosophy is to highlight historic Barossa varietals, whilst also complementing them with emerging styles and varieties. Award winning wines available for tasting, as well as by the glass or bottle.
VASSE VIRGIN SEPPELTSFIELD
Discover Vasse Virgin – the ultimate olive oil indulgence and sensory journey. Tantalise the taste budswith spring inspired sweet treats prepared with Seppeltsfield based chef, Owen Andrews, and explore the beautifully restored Vinegar Haus. Experience natural olive oil based skincare to get you summer ready. Indulge in a rejuvenating scrub, and hand massage. Explore our range of extra virgin olive oils, and gourmet delights perfect for grazing.