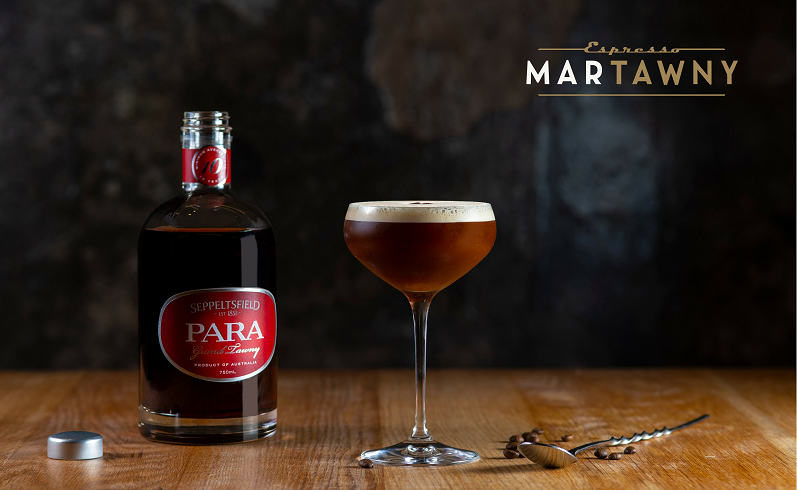 Espresso Martinis are getting a shakeup by Seppeltsfield, and SA's latest cocktail is coming to an Adelaide bar near you.
Just when you thought the achingly delicious combination of espresso and vodka and couldn't get any better, Seppeltsfield has gone all sophisticated, sexy and sumptuous on us with a bootleg version called…wait for it…Espresso Martawny.
Whilst many versions of the Espresso Martini exist, this one takes a direct injection of pure Barossa fortified wine bliss – a cheeky addition of Seppeltsfield's 10 Year Old Para Grand Tawny.
The team at Seppeltsfield discovered by adding a dash into a classic Espresso mix, not only amped up the flavour, but the velvet-smooth texture of the Tawny also allowed the coffee crema to form perfectly on top of the glass. The Espresso Martawny was born.
What is Tawny exactly, we hear you ask?
Well, technically it's a wine made from a mix of Shiraz, Grenache and Mouvedre (red) grapes, but the 'fortified' component comes from Brandy spirit, which is added during fermentation. Tawny also spends a great deal of time simply disappearing into thin air. It's stored in old oak barrels, which allows the wine to slowly evaporate. As the wine evaporates and oxidises, it turns a glorious mahogany-amber colour (Tawny).
So enough chit chat – what's an Espresso Martawny taste like? Take the bold flavours of freshly brewed coffee, add in the creaminess of crème brulee, the nuttiness of hazelnut praline and the booziness of Brandy-soaked raisins.
You can indulge in an Espresso Martawny at its spiritual home in the Barossa, served at FINO Seppeltsfield. Some of Adelaide's best cocktail locations are also joining the Espresso #Martawny movement, from the burbs to the beach. Find it at:
– The Atrium Lounge, InterContinental | North Terrace, Adelaide
– Fumo Blu | 270 Rundle St, Adelaide
– Maybe Mae | 15 Peel St, Adelaide
– Hula Hoop | 2/269 Kensington Rd, Kensington Park
– Melt | 269 Seaview Rd, Henley Beach
– BRKLYN | 260-262 Rundle St, Adelaide