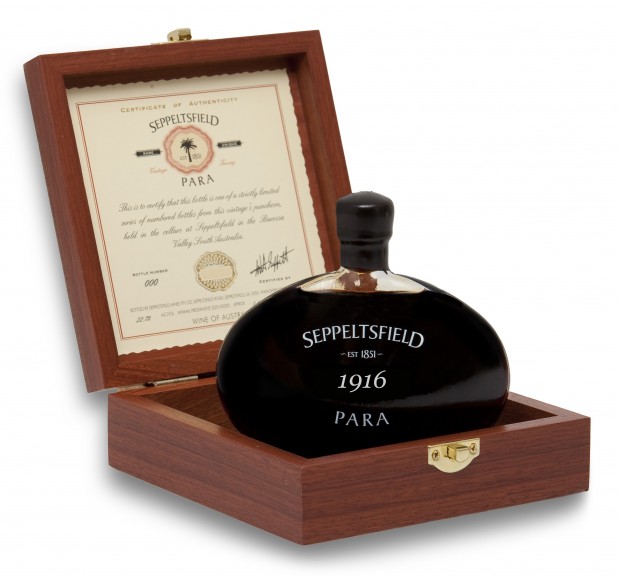 Seppeltsfield estate of the Barossa Valley will serve a sample of its 1916 100 Year Old Para Tawny (Port) in Qantas First Lounges in Sydney and Melbourne – the wine created in the same year as Boeing's establishment a century ago.
Additionally, customers travelling in Business on board Qantas' Boeing 747 flight from Sydney to San Francisco (QF73) and on select flights between Adelaide and Perth will be among those to sample the wine for the first time in history on a commercial flight.
Boeing was initially incorporated as Pacific Aero Products Co. by William E Boeing in Seattle, Washington on 15th July 1916, and is now the world's largest aerospace company, with commercial, defence and space businesses. Its B737 and B747 commercial aircraft continue to be a stable of Qantas' domestic and international commercial fleet.
In 1959, Qantas became the first airline outside the United States to operate the Boeing 707 – and the first airline in the world to fly a jet across the Pacific. Since then, the Qantas Group has taken delivery of nearly 280 Boeing aircraft.
"We are really proud to help celebrate Boeing's centenary and offer our customers a sample of this exclusive wine. The principles that brought Qantas and Boeing together in 1950 continue to underpin our partnership today – mutual trust, a commitment to innovation and the highest standards of safety and performance," said Qantas Head of Customer Product, Service & Development Phil Capps.
"We are honoured that Qantas, along with Seppeltsfield, have launched this unique offering for Qantas' passengers, helping us celebrate our centennial," said Dinesh Keskar, Senior Vice President, Asia Pacific & India Sales, Boeing Commercial Airplanes.
The Seppeltsfield Tawny is the only wine in the world to be released annually at 100 years of age, resting in old oak barrels for a century before being bottled. Described as an 'elixir', the wine was tasted by Their Royal Highnesses Prince Charles and Camilla, as part of a visit to South Australia in 2015.
"As a result of the vision of Benno Seppelt in 1878, we are in a supremely unique position at Seppeltsfield to be able to bottle a wine from the year of Boeing's creation", said Seppeltsfield's Proprietor, Warren Randall. "There is certainly romance in the thought of passengers savouring a wine on-board a Boeing aircraft, who's respective inceptions are both related to 1916", he added.
Seppeltsfield has also blended two dessert wines – a Muscat and a Tokay – exclusively for Qantas, which will be available to purchase via Qantas epiQure and served on board international services in First class from August.