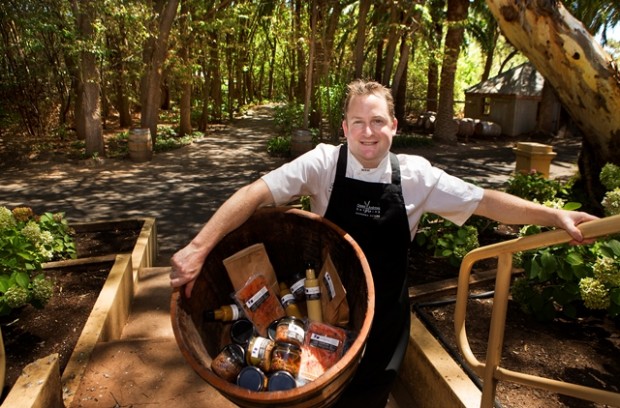 Seppeltsfield Wines' Events Executive Chef, Owen Andrews, will launch a range of provedore on Friday 19th February, as part of a food revolution continuing to take place at the Barossa estate.
Mr Andrews has developed a line of artisan food including regional produce inspired by the Seppeltsfield estate.
The provedore collection by Chef Andrews will include marinated olives, cured Salmon with wild Barossa fennel, pickled Seppeltsfield Road palm dates, onion jam and a selection of signature salad dressings.
The range will be produced exclusively at Seppeltsfield, complementing a range of Barossa food merchandise within the estate's picnic grounds café.
The extension from Mr Andrews' catering business into gourmet produce has been made possible by a new multi-service and production kitchen at Seppeltsfield. The 500 seat capacity function cellar and full service kitchen were completed at the estate in late 2015.
"My wife Rebecca and I are thrilled to be able to now include a range of provedore as part of Owen Andrews Catering", said Mr Andrews. "This represents an exciting new chapter for us, as we explore the many layers of food history at Seppeltsfield."Mr Andrews has been taking inspiration for his cuisine from Seppeltsfield for several years, including the recommissioning of an 80 year old smokehaus and using old wine cellars for aging and curing meats. He has also tapped into the recollections of Seppelt family members, to uncover traditional recipes and dishes enjoyed by the estate's founding family.