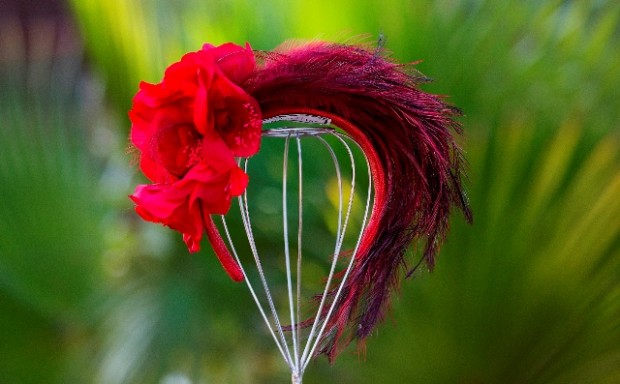 Resident JamFactory at Seppeltsfield hat maker, Julie Fleming, has turned to the estate's vinous history for inspiration, releasing a new line of wine-inspired head wear.
Ms Fleming has drawn creativity from the surroundings of her JamFactory studio at Seppeltsfield to create a line of fascinators, in time for the 2015 Spring carnival racing season, which officially kicked of this month.
The Milliner, who joined as a resident JamFactory at Seppeltsfield artisan earlier this year, has developed a new and unique technique of colouring soft materials, which has inspired the design of a once-off "Claret" fascinator. The hat's design mimics the vibrant colour palette of a youthful Barossa wine.
Ms Fleming has kept the details of the technique under wraps, extending it to range of colours only available at her JamFactory Barossa studio and priced at $650 each.
Embracing the classical techniques of Millinery learnt whilst studying in London, Ms Fleming's hand-crafted wares are highly sought-after. A single hat can take up to 2 weeks to complete.
The Spring racing carnival season commonly sees Ms Fleming shipping bespoke fascinators and other headwear around the country, often direct to the hotels of international 'fashionistas'.
On the design of her wares, Ms Fleming says she is "lucky to let her imagination run wild", allowing her surroundings to direct different courses of inspiration. "There is something about the Seppeltsfield estate that draws out a sense of creativity, the history and landscape particularly", she said.
Ms Fleming's latest designs are on display now at the Seppeltsfield studios of JamFactory, with a range of head wear options available for Melbourne Cup celebrations.