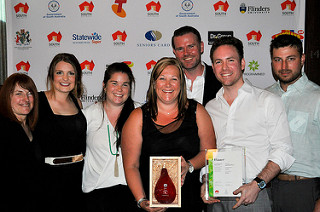 Seppeltsfield has been honoured at the 2015 South Australian Regional Awards, being named winner in the Tourism category for the Barossa region.
The South Australian Regional Awards – fittingly held at Seppeltsfield this month – saw the estate awarded for significant contributions to South Australia's regional communities, through demonstrated excellence in tourism.
The award comes 11 months after the relaunch of the Seppeltsfield estate, when landmark redevelopments including a new cellar door and FINO Seppeltsfield restaurant where unveiled.
Seppeltsfield's Tourism & Events Manager, Nicole Hodgson, said the recognition comes with both excitement and relief. "We are proud that the contribution of Seppeltsfield to South Australian regional tourism is being recognised at grass roots regional level, where much of our support comes from", said Miss Hodgson. "The investment made into the property has also had fantastic spin-offs back to the community, including a number of new jobs and a general sense of positivity and energy for the Barossa region", she added.
The redevelopments of Seppeltsfield's cellar door and addition of FINO restaurant complemented the incoming of JamFactory art and design studios and gallery in 2013. Together, the estate's evolution of its tourism positioning to a Barossa wine, food & art paradise is proving successful, reflected in continued visitor growth.
Seppeltsfield however will be continuing to further its guest experience offerings, including new 1878 Centennial Cellar immersions to be launched in November.