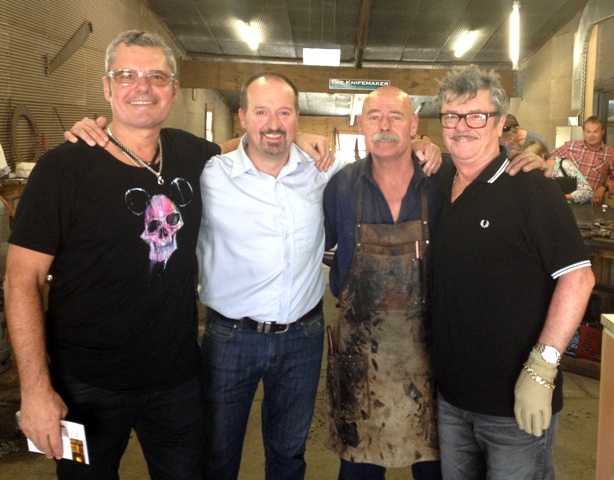 The Barossa was host to Australian rock music royalty over the weekend, with founding members of INXS, Tim and Jon Farriss, visiting both the Seppeltsfield estate and Hentley Farm.
The pair, hosted by Channel 7͛'s Sunrise personality and Port Adelaide Football Club chairman David Koch, experienced a knife-making workshop at the JamFactory at Seppeltsfield Barossa studios with resident Cutler, Barry Gardner. The Farriss brothers followed Seppeltsfield with lunch at Hentley Farm's restaurant, experiencing a taste of the evolving Western Barossa tourism offerings.
The INXS members were visiting South Australia in part to witness their hit͚ "Never Tear Us Apart" being played as part of the AFL Port Adelaide v Sydney pre-game experience on Saturday night. JamFactory resident Cutler, Barry Gardner, said both INXS members loved their time at Seppeltsfield.