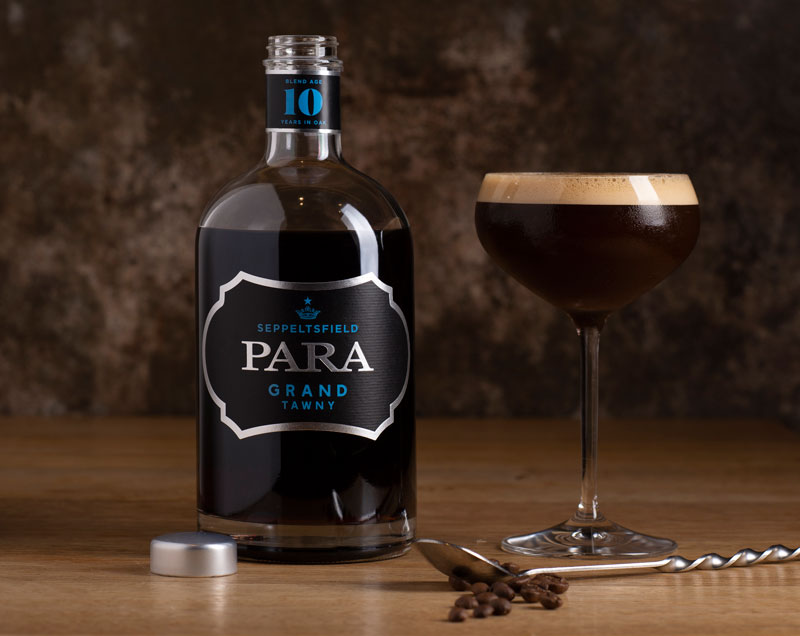 For the first time this year, Seppeltsfield are partnering with Australia's premier food and drink festival, Tasting Australia 2021, presented by RAA Travel.
To celebrate this collaboration, you can indulge in a classic cocktail with a twist – the traditional Espresso Martini will be mixed with Seppeltsfield's house style fortified wine – Para Grand Tawny (with an average age of 10 Years Old). Fittingly remixed as an 'Espresso Martawny', this bootleg cocktail takes the bittersweet flavours to a new level of complexity.
The heart and soul of the Seppeltsfield fortified wine range is the Para Tawny Collection – inspired by a combination of Shiraz, Grenache and Mouvedre (red) grapes, and the 'fortified' component comes from brandy spirit, which is added during fermentation. The Seppeltsfield wine ages in old oak barrels, where it slowly evaporates and oxidises, eventually turning into a beautiful mahogany-amber colour Tawny. Para has been synonymous with luxurious fortified wine for over a century, with the iconic insignia, being the name of the river that meanders through the Barossa.
The team at Seppeltsfield and destination restaurant on the estate, FINO, have worked in collaboration to reimagine this concoction.
Nigel Thiele, Brand Ambassador, Seppeltsfield said "We are inspiring a fortified renaissance by serving traditional wines, such as our Para Grand Tawny, in a modern and contemporary way – what's old is new again. Our Espresso Martawny is characterised by its luscious texture, with flavours of roasted nut praline, brandied raisins and crème brulee".
Sharon Romeo, Proprietor, FINO at Seppeltsfield added "The Para Grand Tawny perfectly complements the hedonistic aromas and flavours of our quality, fresh brewed espresso. Along with flavour complexity, the viscosity of the Grand Tawny also assists the espresso crema form neatly on top of the glass, even after vigorous shaking".
The Seppeltsfield Espresso Martawny will be available at the East End Cellars Cocktail Bar, located in Town Square at Tasting Australia, throughout the duration of the festival (30 April – 9 May 2021). Espresso Martawny $20 per serving.
Seppeltsfield will also be hosting a "Dark and Delicious" Masterclass – Fortified Wines matched with Haigh's Chocolate, hosted by Executive Chairman and Proprietor, Warren Randall and Haigh's Head Chocolatier, Ben Kolly.
For more information, or to make a booking, see Tasting Australia's Website Here.