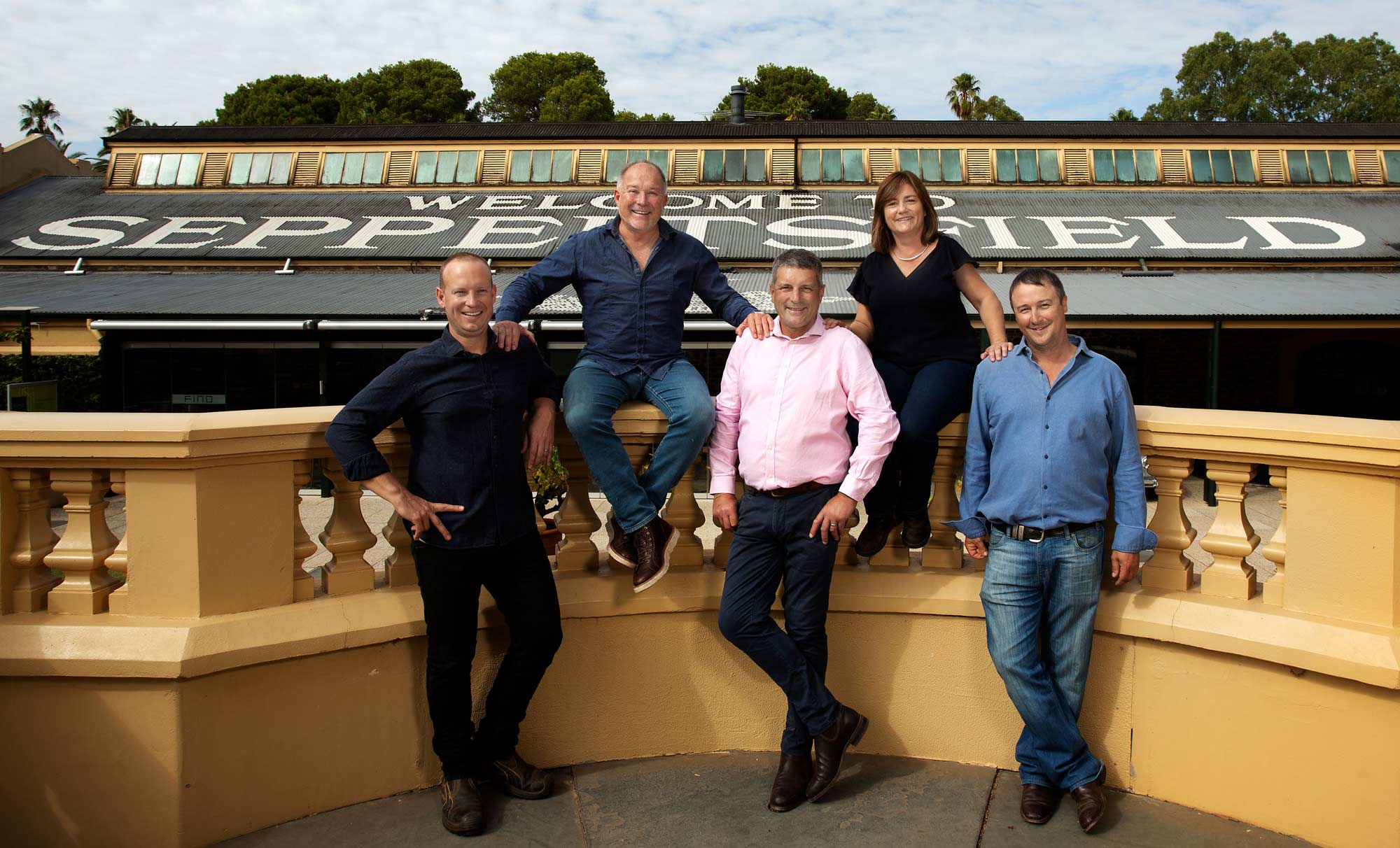 Seppeltsfield, one of Australia's most iconic wineries, today unveiled their new winemaking team and celebrate with a collection of luxury wines – across two new tiers.
Seppeltsfield has long been internationally renowned for its treasure trove of fortified wines, highlighted by the Centennial Collection – the world's only unbroken lineage of single vintage Tawny dating back to 1878. Now, the star is starting to shine on the 169-year-old estate's new chapter, an expanding range of contemporary Barossa still wines, only possible since recently gaining full ownership of its trademark in 2017.
The new winemaking team behind the emergence of Seppeltsfield's still wine range, includes Warren Randall, Fiona Donald, Charlie Seppelt, Matthew Pick and Kingsley Fuller.
The team is led by Len Evans Tutorial scholar and Baron of the Barossa, Fiona Donald, as Chief Winemaker, who has over thirty years' experience, and is celebrating her eleventh vintage at Seppeltsfield this year. More recently joining Fiona is Senior Winemaker and fifth generation of Seppeltsfield's founding family, Charlie Seppelt. Charlie has completed thirty vintages to date domestically and internationally, and is also a Len Evans Tutorial Scholar. Alongside Fiona and Charlie is Senior Winemaker, Matthew Pick, coming from a strong pedigree working for leading wineries in both Australia and Austria.
Spearheaded by Warren Randall, Seppeltsfield – Executive Chairman and Proprietor, with over forty-three years of winemaking experience globally. Warren is one of Australia's most awarded winemakers, having redefined Australia's sparkling wine landscape in the 1980s and recognised with the Len Evans Award in 2015.
Working intrinsically with the Seppeltsfield winemakers is Group Viticulturist, Kingsley Fuller. Kingsley oversees Seppeltsfield's unparalleled Barossa vineyard holdings – the largest single cache of luxury plantings in the region.
Seppeltsfield's winemaking philosophy is guided by four elements, which reflect both the history and the future endeavours. The wines are handcrafted ultimately for enjoyment, but with an eye on ageability. The unique 1888 Gravity Cellar plays a significant role in the style of many bottlings, and for the still wines, celebrating the re-imagining of traditional fortified varietals. These elements are grounded in a belief of place over person. With the primary aspiration to translate the character of vineyard sites – and each season – into the wines themselves.
In February 2018, Seppeltsfield launched its contemporary new brand identity, together with the inaugural 'Village' tier of still wines. The inspiration behind this new label was taken from within the estate, with the earliest insignia reinstated – crown and star trademark from 1877, together with cues such as the proprietary blue and label shape found on 19th century craft liquor bottles.
Today, we see two tiers of luxury red wines – signaling Seppeltsfield's commitment towards a future luxury still wine collection, equaling its reputation for fortifieds. The first new tier, described as 'Bench Blends', is centred on the winemaking art of 'assemblage'. The craft combines sensory ability with the artistic and individual expression of the winemaker – the ambition to achieve a final blend that is greater than the sums of its varietal parts.

The 'Bench Blends' tier includes the 2018 'No. EC4' Barossa Cabernet Sauvignon Shiraz, an expression of the definitive Australian red varietal blend. Alongside 'No. EC4' is a more contemporary expression of traditional Portuguese varieties – 2019 'No. EC3' Barossa Tinta Cao, Tinta Amarela, Touriga. Red varietal blends carry an 'EC' (East Cellar) number which were first released by Seppeltsfield's founding family in the 1960s and formed the inspiration for the range.
A step up from 'Bench Blends', is the 'Grounds' range – single vineyard Barossa Shiraz expressions. As Seppeltsfield's interpretation of Barossa terroir, the 'Grounds' releases look to apply a beguiling simplicity for what in European terms is often complicated and complex idea of the relationship between geography, geology, climate and history.

The range takes inspiration from the Barossa Grounds project – a comprehensive study of the district's sub-regionality. Led by the Barossa Grape & Wine Association, the project brings together winemakers, grape growers and soil and climatic science experts, to evaluate and identify the variations in Shiraz wine expression across the various parishes of the region.

Seppeltsfield's 2018 vintage bottlings include 'The Easting' Barossa Shiraz, and 'The Westing' Barossa Shiraz, from estate-owned vineyards in Eden Valley, the Barossa's high country in the East, and Western Barossa grounds. Expect to see wines released from four points of the compass in future vintages.
Fiona Donald, Chief Winemaker, said "It is an exciting time at Seppeltsfield as we progressively expand our still wine collection upward, each tier and wine having a clear purpose and reflective of our philosophy. We have the best combination of highly passionate people, superior vineyard holdings, our unique 1888 Gravity Cellar and history unlike no other. What's more, a dynamic tourism precinct in the Barossa for visitors to come and discover our collection of wines and learn about our story".


Seppeltsfield has confirmed a "Seppeltsfield Icon Program" is underway, with releases set to be unveiled over the coming years.
The Seppeltsfield luxury collection of wines are available at the Seppeltsfield Cellar Door in the Barossa or via Seppeltsfield.com.au and can be found only in fine wine retailers and on-premise nationally.
The 'Grounds' tier is exclusive in retail to Seppeltsfield Cellar Door and Langton's.