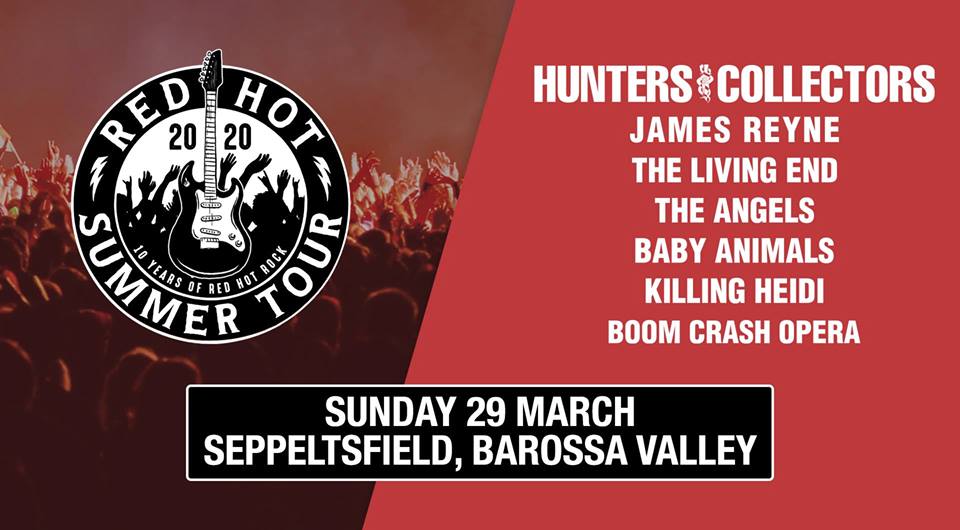 The Red Hot Summer Tour celebrates 10 years of Red Hot Rock in 2020, right here at Seppeltsfield in the Barossa Valley, 29th March.
The all-Australian line-up sees reformed Hunters & Collectors take to the stage for this special 10th anniversary concert; alongside James Reyne, The Living End, The Angels, Baby Animals, Killing Heidi and Boom Crash Opera.
Banding together again for Red Hot Rock in 2020, Hunters & Collectors are recognised for their smash hits 'When The River Runs Dry', 'Say Goodbye', 'Do You See What I See' and many more – which will all be coming to the stage here at Seppeltsfield.
Trending the boards in the rock halls of Australian music for decades, James Reyne and The Living End, considered Australian rock royalty, are not to be missed in what will be a sell-out performance.
Tickets on sale from Thursday, 8th August and can be secured here.
For further information and all you need to know about Red Hot Rock in 2020, please visit www.redhotsummertour.com.au