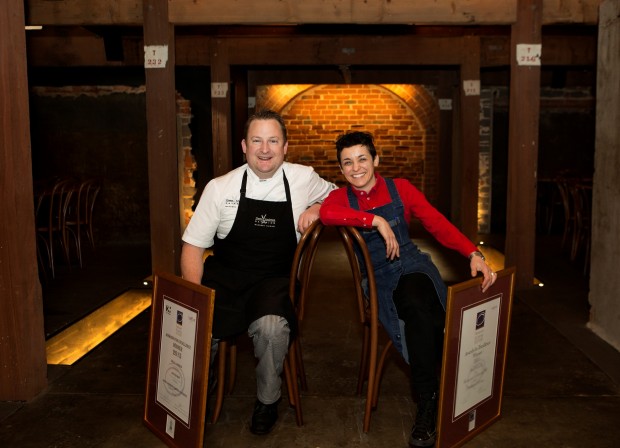 Seppeltsfield's culinary connections have been graced with further endorsement, with FINO Seppeltsfield restaurant and Owen Andrews Barossa Catering receiving honours at the 2015 South Australian Restaurant & Catering Awards.
The awards, announced at the Adelaide Convention Centre this week, saw FINO Seppeltsfield named South Australia's Best New Regional Restaurant and Events Executive Chef, Owen Andrews, awarded the 2015 Best Small Caterer.
The FINO Seppeltsfield endorsement comes after receiving Gourmet Traveller WINE Magazine's Best New Wine List 2015, as well as a standout critiques from The Adelaide Review and The Weekend Australian. The Best Small Caterer decoration for Owen Andrews is his second acceptance of the category award since 2013.
Mr Andrews has forged his reputation at the estate through high class functions and weddings, more recently through the unearthed@seppeltsfield pop-up food and wine event series.
Combined, the culinary kudos for Seppeltsfield is proving the estate's renaissance as a village of excellence, positioning itself as a Barossa wine, food and art paradise.
FINO Seppeltsfield and Willunga proprietors, Sharon Romeo and David Swain, have been stunned with the recent acclaim of the Barossa venue, coming just 10 months since its opening in November 2014. The pair, now concentrating their efforts at the $3M dollar redeveloped Seppeltsfield estate, are continuing to be delighted with the region's bounty of world-class produce. "It is so pleasing to be able to not only share South Australia's food narrative to interstate and international visitors, but to also show guests from our own back yard just how good we have it", said Ms Romeo. I look at our Pork from SchuAm in Freeling, our Mulloway from the Coorong and the assortment of fresh produce from the Barossa farmers market – it is the stuff restaurateurs dream of", she added.
The investment into gastronomy infrastructure at Seppeltsfield is continuing, with a full-service catering kitchen nearing completion in the estate's 1920 Vintage Cellar building. The Vintage Cellar once completed will enable capacities from 50 to 500 people, capable of all function types from weddings to business conventions.
Owen Andrews will also look to utilise the Vintage Cellar for cooking classes, interweaving the estate's 1900s Baconhaus, Bakehaus and maturation cellars for explorative 'foodie' trails across the property. "We are thrilled to be associated with the awakening of Seppeltsfield as a culinary destination", said Mr Andrews. "The estate's 164 year old history has so many stories to tell. Over the next year we are looking to discover inspiration from early food records of 19th century Seppeltsfield lifestyle, like Heston Blumenthal does with English history", he added.