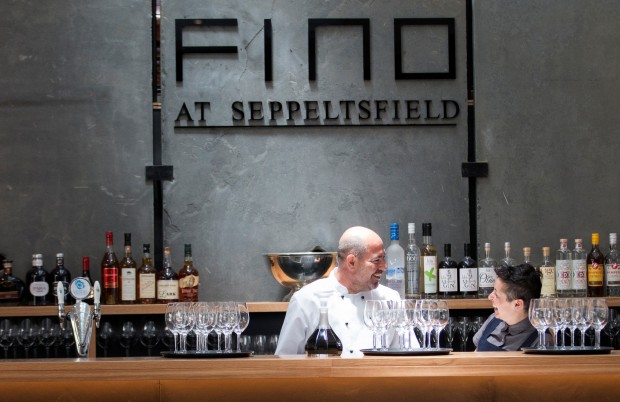 The Barossa Valley's FINO Seppeltsfield has been graced with a glowing 4/5 review by The Weekend Australian Magazine's John Lethlean, who prompted the question "Is this the best place in Australia for a long lunch or what?"
Lethlean, one of the country's most read restaurant critiques, featured the FINO Seppeltsfield review in the Saturday 11th July edition of The Australian, going on to reference how Seppeltsfield had been "reborn"with the incoming of the restaurant.
Lethlean, clearly impressed with the Seppeltsfield estate's intertwining of old world and new world, went on to comment "If you get off on wine, culture, food, history, it's an amusement park for hungry adults."
The endorsement comes after only 9 months of trading since its grand opening and reveal in November 2014.
The review particularly highlighted Sharon Romeo & David Swain (Proprietors) and Head Chef's Sam Smith's menu, with enthusiasm around both the food and wine list offerings. Developing hero-dishes including bacon broth with tortellini and school prawns and sardines were viewed by Lethlean as "profoundly satisfying" and "faultless stuff".
Seen by Seppeltsfield proprietor Warren Randall as "pure justification", Lethlean's report comes just weeks after the Seppeltsfield estate was highlighted at the 2015 South Australian Architecture Awards, taking out Best Interior Design for the cellar door and FINO restaurant works.
"This clearly continues to justify all of the redevelopment decisions we have made to the Seppeltsfield estate to date, said Mr Randall. "Having Sharon and David involved in our rebirth, complemented by the talents of Sam Smith and his team, has been a clear winner. "We couldn't be more proud – Lethlean is a tough judge!", he added.
Lethlean went on to reflect upon Seppeltsfield's awarded architectural design, commenting "light will filter through the clerestory windows through exposed white trusses to illuminate your table like a message from above".
FINO Seppeltsfield restaurant is open 7 days a week for lunch and dinner Friday & Saturday nights. Phone (08) 8562 8528 and web www.fino.net.au