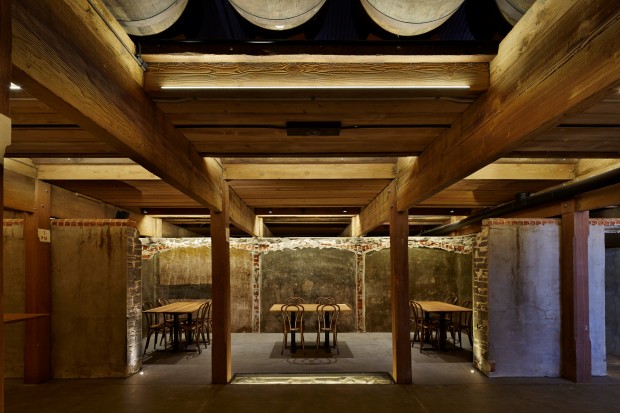 Barossa Valley's Seppeltsfield estate has been honoured at the 2015 South Australian Architecture Awards, with its Cellar Door & FINO Restaurant winning the Robert Dickson Award for Best Interior Design.
South Australian-based Architect Max Pritchard led the design, which took out the Interior Design top award – 1 of 24 project winners announced at the awards ceremony in Adelaide earlier this month.
The estate also received an Award for Heritage, recognising the design's adaptive reuse of bluestone, slate and timber.
In a particular coup though for the Barossa region, the $3M dollar Seppeltsfield estate project – unveiled in November last year – managed to top the Adelaide Oval redevelopment in the Interior Design category.
The judging citations for the Architecture Awards referenced how the estate had undergone a "dramatic reformation". A particular highlight noted included the creation of intimate internal spaces including a subterranean dining experience for FINO Restaurant (formerly occupied by wine vats).
Architect Max Pritchard, said he has enjoyed the challenge of "bringing new life" to previously underutilised heritage buildings. "Our work was centred on restoring the unique character of these spaces, while introducing a series of new complimentary elements", said Mr Pritchard. "It's exciting working with Warren Randall, the other owners of Seppeltsfield and their staff – they value history but have the passion to push forward with a new vision", he added.
The Cellar Door and FINO Restaurant architecture additions complement the JamFactory At Seppeltsfield art & design studios, gallery and shop, which similarly saw heritage listed building re-adaption by Grieve Gillet in 2013.
The Seppeltsfield Cellar Door & FINO Restaurant project will now go on to be included in the national awards to be announced in Brisbane in November this year.
The Seppeltsfield estate is open for public 7 days a week, 10.30am – 5pm, with the JamFactory studios, gallery and shop from 11am. FINO Restaurant is open 7 days a week for lunch and dinner Friday & Saturday nights.