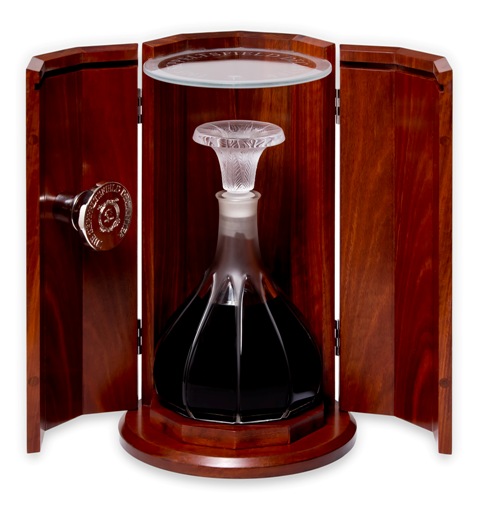 Seppeltsfield will release a decanter this month priced at AUD $10,000 each, in a partnership with luxury French crystal house, Lalique.
The Barossa Valley estate has announced it will allocate 150 decanters world-wide, filled with an especially created 100 year old blended Tawny Port.
The estate is renowned for its single vintage 100 year old Tawny which it releases every year, however the Lalique creation, known simply as 'The Seppeltsfield Decanter', will be filled with a blended wine containing vintages as far back as 1886.
Seppeltsfield joins global luxury brands such as Bentley, Salvatore Ferragamo, Hardy Cognac and Macallan, each of who have been selected by Lalique to collaborate in projects involving fine crystal.
Founder of Lalique in 1888, René Lalique is considered one of the great artists of Art Nouveau and Art Deco and often regarded as the inventor of modern jewellery. His works, which continue to be created in Wingen-sur-Moder (Alsace) by glass and crystal artisans today, are clearly defined by contrasts between clear and frosted finishes.
Two years in development, The Seppeltsfield Decanter has been a true partnership between the two brands. The design maintains the Lalique aesthetic, whilst taking inspiration from the Seppeltsfield palm tree – iconic to the Barossa Valley property. Seppeltsfield enthusiasts will also recognise the decanter's tear-shaped design, which takes cues from the 'Para' Liqueur bottle of the 1950s.
Additionally, Seppeltsfield has employed the experience of Barossa Valley craftsman, Andrew Pywell, to create a presentation case that encapsulates the decanter. Mr Pywell has masterfully recommissioned 300 year-old Australian Jarrah timbers (once wine spirit vats) into a bespoke decahedron-faceted display piece, befitting of the decanter itself.
Mr Silvio Denz, Chairman and CEO of Lalique, believes the partnership with Seppeltsfield embodies Lalique's desire to work with authentic brands that celebrate craftsmanship, history and heritage. "Seppeltsfield has heart and soul. Of course we want to partner with prestigious brands and designers who share the same values and standards of quality, but it's the heart and soul that really drives passion and creativity." said Mr Denz. "I hope our partnership with The Seppeltsfield Decanter is seen much more than simply that, but a genuine desire to marry the unusual with the eclectic. A piece that carries with it the symbolism of our two great histories", added Mr Denz.
The Seppeltsfield Decanter will hold a Para Tawny blend of twelve different vintages between 1886 and 1970, assembled by winemaker Fiona Donald and managing director, Warren Randall. The brief for the Tawny assemblage, according to Mr Randall, was for the wine to maintain the power of age, yet to "layer-in" the elegance of youth. "We wanted something that showed the sheer age capability of Seppeltsfield's Tawny parcels and the corresponding concentration of flavour, but also for the wine to have drinkability", said Mr Randall. "I call it the Titan blend", he added.
The winery believes the 100 year old average-age Tawny to be the first of its type in the world. "We saw the Penfold's Rare Tawny 50 year old released not long ago – this is double that", said Mr Randall. "Decanter collectors will also receive an exclusive invite each year to access other treasures from the Seppeltsfield Cellars such as Brandy, Whisky and other special cuvées – an annual museum refill program", he added.
Purchase enquiries for The Seppeltsfield Decanter can be directed to chad@seppeltlsfield.com.au or by phoning +61 (0) 8 8568 6200